Disraeli Gears is the 2nd studio album from Cream. It was re-released in 2004 as a 2 disc "Deluxe Edition".
Original Album Tracklist
Edit
​Side OneEdit
Strange Brew   (Eric Clapton, Felix Pappalardi, Gail Collins)
Sushine of Your Love   (Jack Bruce, Pete Brown, Clapton)
World of Pain   (Pappalardi, Collins)
Dance the Night Away   (Bruce, Brown)
Blue Condition   (Ginger Baker)
​Side TwoEdit
Tales of Brave Ulysses   (Clapton, Martin Sharp)
SWLABR   (Bruce, Brown)
We're Going Wrong   (Bruce)
Outside Woman Blues   (Arthur Reynolds)
Take It Back   (Bruce, Brown)
Mother's Lament   (Traditional)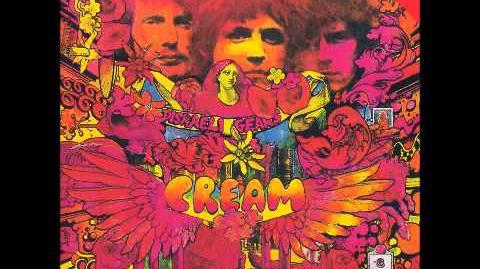 Ad blocker interference detected!
Wikia is a free-to-use site that makes money from advertising. We have a modified experience for viewers using ad blockers

Wikia is not accessible if you've made further modifications. Remove the custom ad blocker rule(s) and the page will load as expected.