Don't Panic is the fifth album by All Time Low.
Track listing
Edit
(All lyrics written by Alex Gaskarth and Mike Green except listed).
The Reckless and the Brave - 3:19
Backseat Serenade - 3:21
If These Sheets Were States - 3:19
Somewhere in Neverland - 3:45
So Long, Soldier - 2:49
The Irony of Choking on a Lifesaver - 3:36
To Live and Let Go - 3:43
Outlines (Gaskarth, Green, Patrick Stump) - 3:35
Thanks to You - 3:34
For Baltimore - 3:09
Paint Your Wings - 3:40
So Long, and Thanks for All the Booze - 3:09
Re-issue Cover
Edit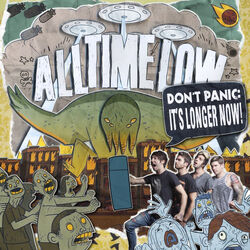 Ad blocker interference detected!
Wikia is a free-to-use site that makes money from advertising. We have a modified experience for viewers using ad blockers

Wikia is not accessible if you've made further modifications. Remove the custom ad blocker rule(s) and the page will load as expected.